Nursing Mnemonics: Blood Transfusion Reaction
IF A TRANSFUSION REACTION IS SUSPECTED
Stop the transfusion immediately!
Disconnect the intravenous line from the needle. Do not disconnect the unit from the IV set. Attach a new IV set and prime with saline, or flush the line with the normal saline used to initiate the transfusion and reconnect the line. Open the line to a slow drip. In certain cases, such as a mild urticarial reaction or the presence of repeated chill-fever reactions, it may be possible to restart the blood transfusion after evaluation and treatment of the patient. To reinitiate the transfusion using a new IV tubing set, enter the second port to reduce the chance of bacterial contamination.
Seek medical attention immediately. If the patient is suffering cardiopulmonary collapse, and medical attention is not immediately available, press the blue "Code" button and telephone the Cardiac Arrest Team (dial 911).
Check to ensure that the patient name and registration number on the blood bag label exactly with information on the patient's identification wristband attached to his/her wrist. DO NOT BYPASS THIS STEP BY ASSUMING THAT THE PATIENT'S TRUE IDENTITY IS KNOWN.
Do not discard the unit of blood that has been discontinued because it may be necessary for the investigation of the transfusion reaction.
Notify the Blood Bank that a transfusion reaction has occurred and briefly describe the nature of the reaction.
Blood Bank personnel will identify the Pathology House officer or staff pathologist who will assume responsibility for investigation of the reaction.
Delay the transfusion of additional units until the possibility of serological incompatibility has been investigated. Consult a Blood Bank physician if there is an urgent need or transfusion.
Initiate the Transfusion Reaction Report Form after Blood Bank personnel have been notified of a transfusion reaction. It is essential that this form be filled out completely, including the unit numbers of all blood transfused. The form will serve as a written request for investigation of the reaction by a Blood Bank physician.
In the case of a suspected hemolytic transfusion reaction (not urticaria alone), the following items should be submitted promptly to the Blood Bank:
completed Transfusion Reaction Form (white copy)
posttransfusion blood specimens (Adults: 7 mL Pink top tube, lesser volumes for pediatric patients), and
incriminated unit(s) of blood and attached tubing.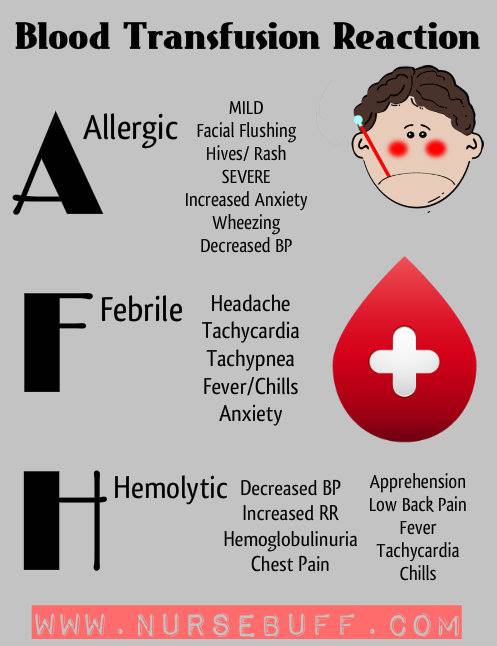 Source