How To Fill & Submit Finland Entrance Exam Joint Application Form Spring 2023
The International UAS Exam is a digital entrance exam for international students seeking to study at Finnish Universities of Applied Sciences (UAS). The exam is conducted in English and is used to select students for degree programs during the first joint application round in spring 2023.
Joint Application to Higher Education – Spring 2023
Application period open from January 4th to January 18th, 2023
Find out which study programmes are available in the joint application
Supported web browsers: Mozilla Firefox, Google Chrome, Microsoft Edge, Safari
Instructions for filling out the application form
Considerations for submitting the application form
Confirmation email and link to make changes to your application
Only one application form allowed in this joint application
Contact information for questions or problems with the application process
Expert Tips for Selecting Study Programs in the Joint Application Process in Finland
Maximizing Your Chances of Admission through the Joint Application Process in Finland
When choosing study programs to apply to through the joint application process in Finland, it is important to consider the following:
Students can apply to up to six programs in a single application.
It is important to choose programs carefully, as students can only submit one application form.
Programs do not need to be ranked in order of preference, and students may be offered admission to multiple programs.
Students may accept only one offer of admission to a program leading to a higher education degree in Finland in the same academic term.
Admissions procedures are automatically determined based on a student's eligibility, and cannot be chosen by the student.
Further information about admissions criteria for each program can be found on the program's website.
Personal Details on the Higher Education Application Form
Options for adding study programmes to your application
Considerations for filling in personal details on the application form, including preferred name and contact information
Modifying contact information after submitting the application
Using a Finnish personal identity code and accepting offers of admission electronically through My Studyinfo
Personal data retrieved from the Finnish Population Information System cannot be edited on the application form, but can be edited through the Personal data service offered by the Finnish Digital and Population Data Services Agency.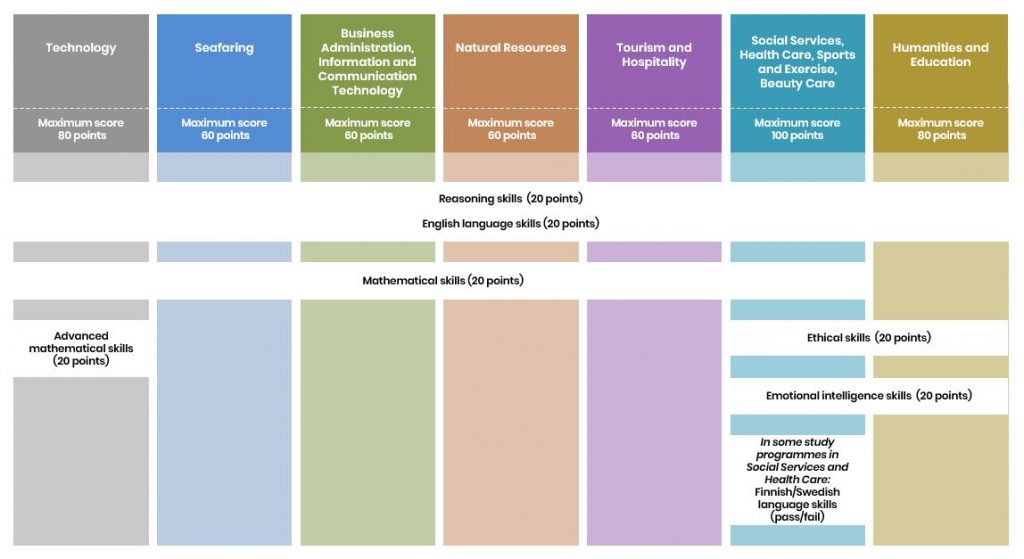 Permissions and Consents for Higher Education Application
Check all information on the application form before submitting
Information on the application form will be used for student admission and selection, and may be shared with other officials and used for research purposes
Data in the data registry will be kept for 5 years, with information about receiving the right to study kept forever
You have the right to demand rectification of false or inaccurate data, the right to demand the limitation of processing your data, and the right to file a complaint to a data protection supervisor
You will receive a confirmation email after submitting the application
By filling out the electronic application form, you give consent for communication about student admissions to be conducted via email only
You acknowledge that information on the application, including appendices, may be given to third parties for verification purposes
You may choose to receive information about student selection in a specific language
You have the option to allow your contact information to be shared with third parties for the purpose of direct education marketing.
Educational Background on Higher Education Application Form
Fill in educational background completed or in progress during the admission process
Options for listing different types of education completed in Finland or outside of Finland
Options for listing open university/UAS studies and other eligibility for higher education
Requirement to answer question about completing general upper secondary education or vocational qualification for statistical purposes
Requirement to answer question about completing a university or university of applied sciences degree in Finland before 2003 and potential impact on admission
Importance of checking all information on the application form before submitting and submitting the application before the deadline
Receiving a confirmation email after submitting the application.
Steps to complete the joint application to higher education form
Instructions for filling out the joint application to higher education form in Finland
Study programmes available
List of Bachelor's and Master's Degrees Offered
List of Bachelor's and Master's Degrees Offered by Aalto University
Chemical Engineering: Bachelor and Master (3+2 yrs)
Computational Engineering: Bachelor and Master (3+2 yrs)
Data Science: Bachelor and Master (3+2 yrs)
Design: Bachelor and Master (3+2 yrs)
Digital Systems and Design: Bachelor and Master (3+2 yrs)
Economics: Bachelor and Master (3+2 years)