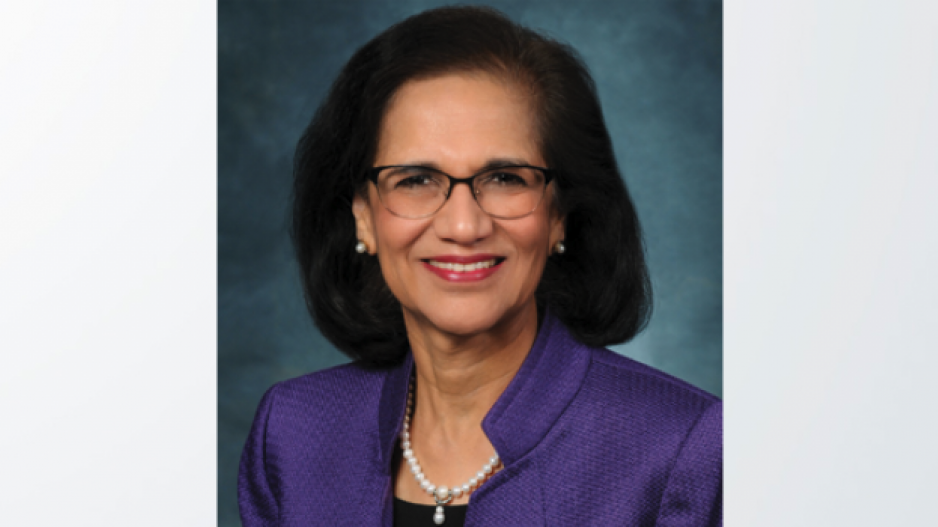 During her speech Sunday, Nov. 25, at the opening session of RSNA 2018 in Chicago, RSNA President Vijay Rao, MD, noted that today's radiologists will be empowered by new technologies, not replaced by them.
"No matter where I travel, I see the hype, the hope and the fear created by the rapid rise of technologies such as artificial intelligence (AI) and machine learning," she said.
Rao, chair of the department of radiology at Jefferson University Hospitals in Philadelphia, strongly stated that AI will never replace radiologists. Instead, she said, it will enhance radiology as a profession and allow radiologists to spend more time on initiatives that will benefit both patients and physicians.
To keep pace with technological advancements within radiology, Rao suggested two initiatives radiologists must undertake. The first initiative is recreating and rebranding reading rooms into "digital diagnostic data hubs," and the second is a type of care delivery model she referred to as "total imaging care."
The purpose of the digital diagnostic data hub is for clinical teams to gather or participate virtually through video conferencing to make decisions regarding a patient's care. Radiologists could rely on AI to aggregate the current imaging findings with those of prior images from other imaging modalities. Lab results, surgical or biopsy findings, health history, physical exams, patient demographics, patient genomics and risk factors can all also be gathered. By using AI to bring everything relevant into one central location, she noted, specialists could make a diagnosis that may have otherwise been missed if the exam was considered in isolation.
Rao then discussed the "total imaging care" delivery model. Instead of the referring physician leading the charge for patient communication, she explained, the radiologist can take over all aspects of imaging care for patients, which includes communicating results to the patient.
"The good news is that AI and related technologies give us the exact tools we need to finally make this vision a reality," Rao said.
Looking to the future
Twenty-five years from now, Rao believes AI will be a useful tool for radiologists in a number of ways. It will help shorten the time required for MRI studies, for instance, and help limit radiation exposure to the absolute minimum.
AI will also allow for changes from prior exams to be noted, which saves radiologists time they can then spend focused on performing patient-centric care. And as radiologists become more available, Rao said, patients will gain a better understand of just how valuable radiology is to healthcare across the board. radiologists are real doctors who they can communicate their questions and concerns, much like physicians from other specialties.
"In 2043, radiologists will have realized that if they truly want to be recognized as physicians who are providing patient-centered care, they have to come out of their reading rooms and interact with patients directly," Rao said.
Rao concluded her speech by emphasizing that radiologists should not be fearful of AI. Instead, she added, they must be receptive to this growing technology and make the most of it at every turn.
"We need to embrace AI rather than fear it," she said.