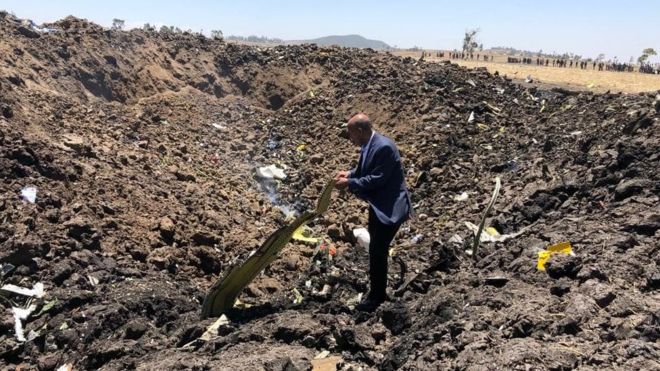 An Ethiopian Airlines jet has crashed shortly after take-off from Addis Ababa, killing all on board, the airline says.
It said 149 passengers and eight crew members were believed to be on flight ET302 from the Ethiopian capital to Nairobi in Kenya.
The airline added that there were 33 different nationalities on board.
The crash happened at 08.44 local time, six minutes after the months-old Boeing 737 Max-8 took off.
It is not yet clear what caused the accident.
The Office of the PM, on behalf of the Government and people of Ethiopia, would like to express it's deepest condolences to the families of those that have lost their loved ones on Ethiopian Airlines Boeing 737 on regular scheduled flight to Nairobi, Kenya this morning.

— Office of the Prime Minister – Ethiopia (@PMEthiopia) March 10, 2019
Passenger on board Ethiopian airline that crushed today including crew members
A senior captain named Yared Getachew with a cumulative flight hour of more than 8000 and with a commendable performance was commanding the flight along with first officer Ahmed Nur Mohammod Nur who had a flight hour of 200.
149 passengers and 8 crew members were on board the flight. The victims were of 35 Nationalities.