FMDC 1st MBBS Merit Lists Admission Result 2017-2018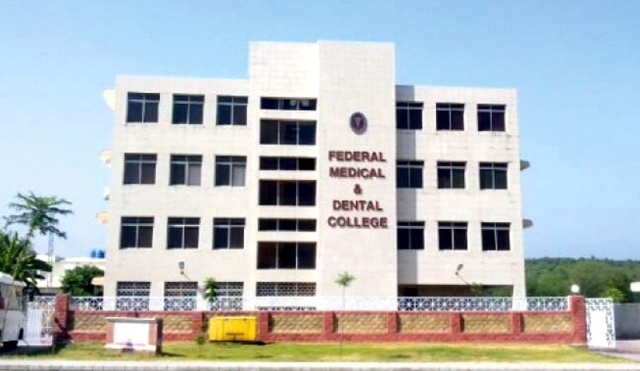 1. Click to Download Open Merit
2. Click to Download Punjab
3. Click to Download Sindh (R)
4. Click to Download Sindh (U)
5. Click to Download KPK
6. Click to Download Balochistan
7. Click to Download Azad Jammu & Kashmir
8. Click to Download Gilgit Baltistan
9. Click to Download FATA
10. Click to Download Federal (ICT)
11. Click to Download Federal Government Employees
12. Click to Download Disabled
100 seats per year have been allocated for admissions in MBBS at Federal Medical & Dental College (FM&DC). Every effort is taken to ensure transparency and addressing concerns in induction of students at FM&DC for which the HEC (Higher Education Commission) is assigned the responsibility of adherence to the relevant Pakistan Medical & Dental Council (PM&DC) rules and regulations.
Seats allocated to students according to approved quota are given below:
Merit 06
Punjab 38
Sindh (R) 09
Sindh (U) 06
KPK 09
Balochistan 05
Gilgit Baltistan 02
FATA 02
AJK 02
ICT 10
FGE 09
Disabled 02
Currently six batches comprising of around 500 MBBS students have been admitted in the College.
Selection Criteria:
HSSC Marks: 65% Minimum
Admission Test will be conducted by HEC(Higher Education Commission).
HEC Entry Test Marks:50%
HSSC Marks: 40%
SSC Marks: 10%