How Low Levels of Dopamine, Endorphins, Serotonin, and Oxytocin Can Affect Your Mood
Happiness is a complex emotion that is influenced by a variety of factors, including our thoughts, behaviors, and brain chemistry. When we are happy, our brains release chemicals such as dopamine, endorphins, serotonin, and oxytocin. These chemicals have a number of positive effects on our mood, motivation, and overall well-being. However, when we are not happy, our brains may not release these chemicals as effectively. This can lead to a number of symptoms, including procrastination, low self-esteem, fatigue, inability to focus, feeling anxious, feeling hopeless, mood swings, and insomnia.
In this post, we will discuss the 4 brain chemicals that affect happiness, as well as the symptoms of low levels of these chemicals. We will also provide some tips on how to boost your levels of these chemicals and improve your overall happiness.
Procrastination: When you're not happy, you may be more likely to put off tasks and avoid challenges.
Low self-esteem: You may start to doubt your abilities and feel like you're not good enough.
Lack of motivation: It can be hard to get up and go when you're not feeling happy.
Fatigue: You may feel tired all the time, even if you're getting enough sleep.
Inability to focus: It can be difficult to concentrate on anything when you're feeling down.
Anxiety: You may feel anxious or worried about everything, even small things.
Hopelessness: You may start to feel like there's no point in trying anything.
Mood swings: Your emotions may be all over the place, from feeling angry to feeling sad.
Insomnia: You may have trouble sleeping, which can make it even harder to feel happy.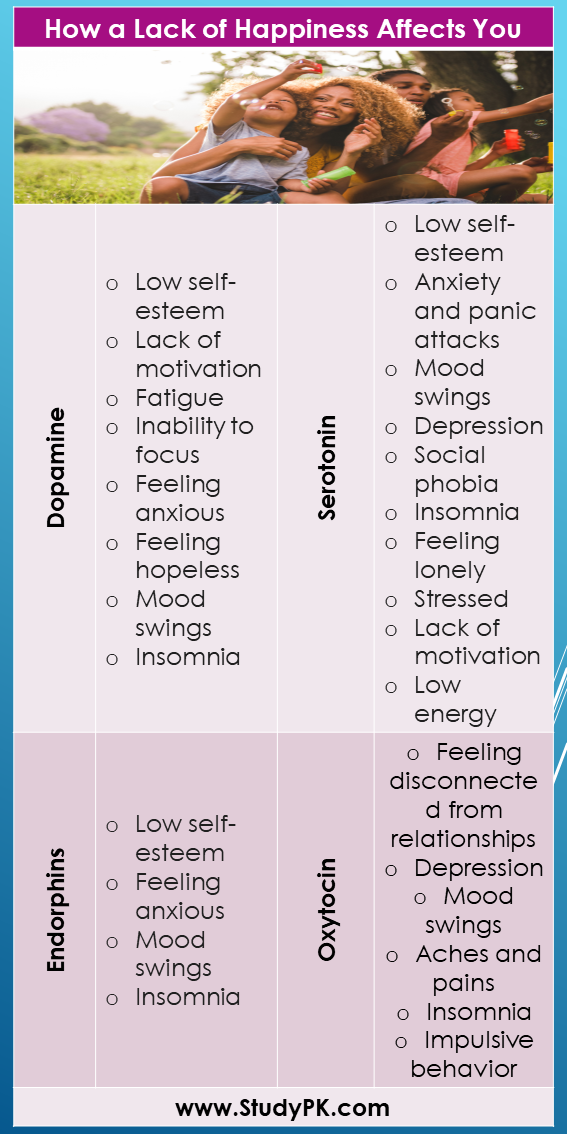 Dopamine
Reduced levels of dopamine can lead to these symptoms.
Dopamine is a neurotransmitter that plays a role in motivation, reward, and learning.
Low levels of dopamine can make it difficult to feel motivated or excited about things.
Endorphins
Reduced levels of endorphins can lead to these symptoms.
Endorphins are hormones that are released in response to pain or stress.
They have mood-boosting effects and can help to relieve pain.
Serotonin
Reduced levels of serotonin can lead to these symptoms.
Serotonin is a neurotransmitter that plays a role in mood, sleep, and appetite.
Low levels of serotonin can lead to depression, anxiety, and insomnia.
Oxytocin
Reduced levels of oxytocin can lead to these symptoms.
Oxytocin is a hormone that is released during bonding experiences.
It plays a role in social attachment, trust, and empathy.
If you are experiencing any of these symptoms, it is important to talk to your doctor.
There are many things you can do to boost your happiness levels, such as:
Engaging in activities that you enjoy
Spend time with loved ones
Get enough sleep
Eat a healthy diet
Exercise regularly
Practice relaxation techniques
By taking steps to boost your happiness levels, you can improve your overall health and well-being.