Wah Medical College Admission Process 2018-2019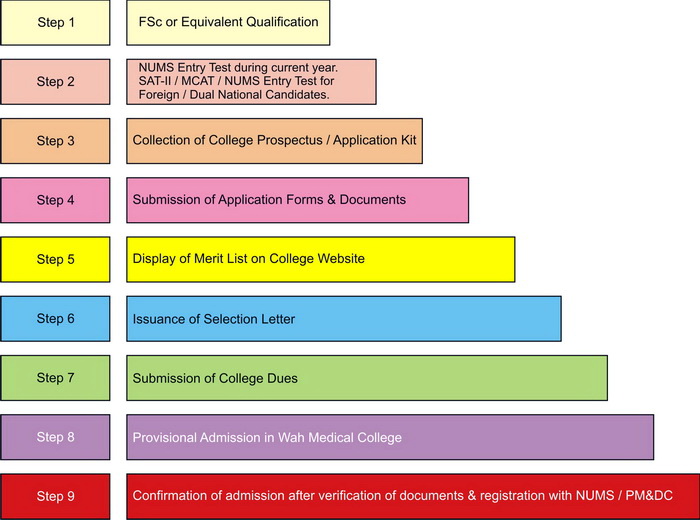 Wah Medical College has made all the preparations for M.B.B.S admission in Session 2017-18. Admission process will starts immediately after notification of PM&DC for admission in Private Medical Colleges.
Timeline for admission process will be displayed on the college website and will be advertised in daily Newspapers.
College Prospectus/Application kit is available.
Applicants are advised to submit complete documents as mentioned on the "Instruction Slip" issued with the Application form.
No amendments in the documents submitted will be accepted after last date of submission of application.
Documents received after the closing date of submission of application form will not be entertained. Admissions in WMC are strictly on merit in accordance with the timeline for admission process.
Merit list will be displayed on the college website. Selected candidates will be informed through official letter, email as well as through SMS/cell phone by the Director Student Affairs.
Candidate will be given specified number of days for submission of college dues. Candidate, who fails to submit college dues within given timeline, will be considered not willing to take admission and his/her seat will be offered to next candidate on merit.
Admission will be provisional on submission of college dues and will be confirmed , subject to verification of credentials submitted by the applicant from respective college/boards/university etc as well as registration by the NUMS and PM&DC.