Fast University Login, Result and Merit List 2020
The Merit for BBA, BS (A&F) & BS have been announced for Admissions Fall 2020.
Visit https://bit.ly/AdmissionsResult2020 and enter your ARN to view your results.
FAST NU CLOSING MERIT FALL 2014-2018
Karachi Campus
As most of you were asking about closing merits of different universities so here we go.
New series about closing merits. All major Universities shall be covered.
University: FAST National University
*This year merit might change due to no test.
FAST UNIVERSITY ADMISSION UPDATE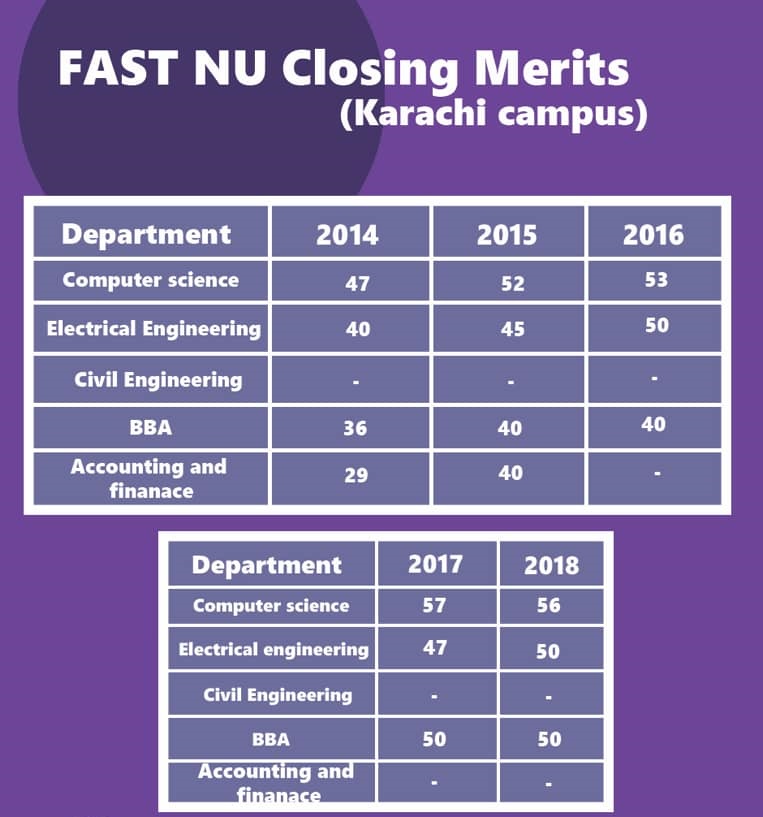 Dear All,PEC has allowed admission in Engineering programs without entry test. The merit computation criteria specified by PEC is as follows:i)SSC- 50%ii) HSSC – 20%iii) Math – 10%iv) Physics – 10%v) Chemistry – 10%
(Matric marks gained/total matric marks)x0.5 +
(Fsc marks gained/total fsc marks)x0.2 +
(Marks gained in phy/total phy marks)x0.1 +
(Marks gained in maths/total Math marks)x0.1 +
(Marks gained in chem/total chem marks)x0.1 = your aggregate