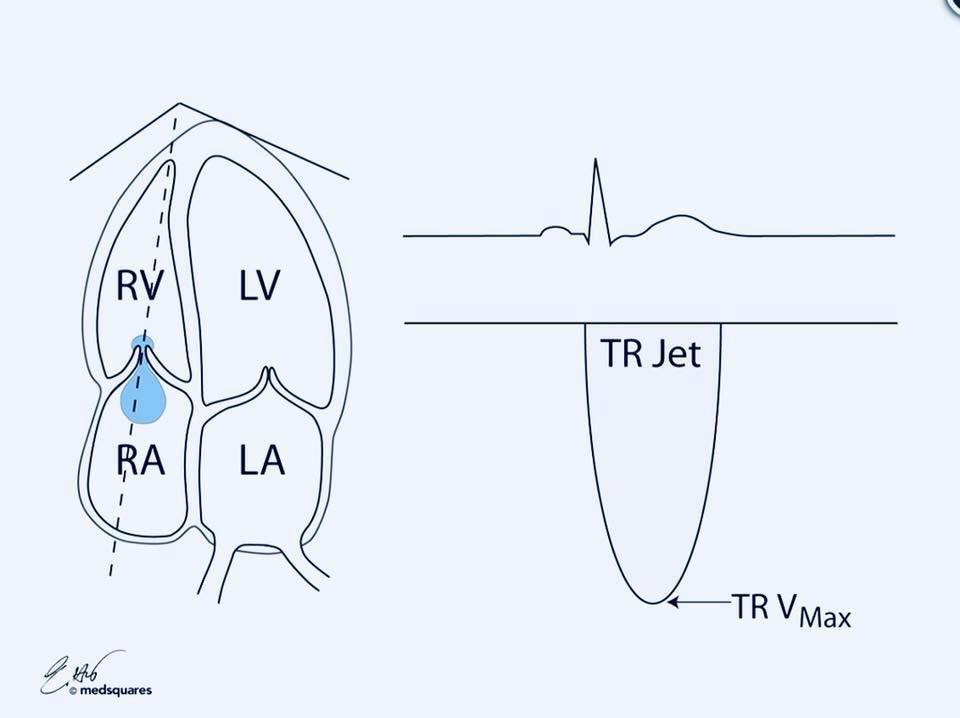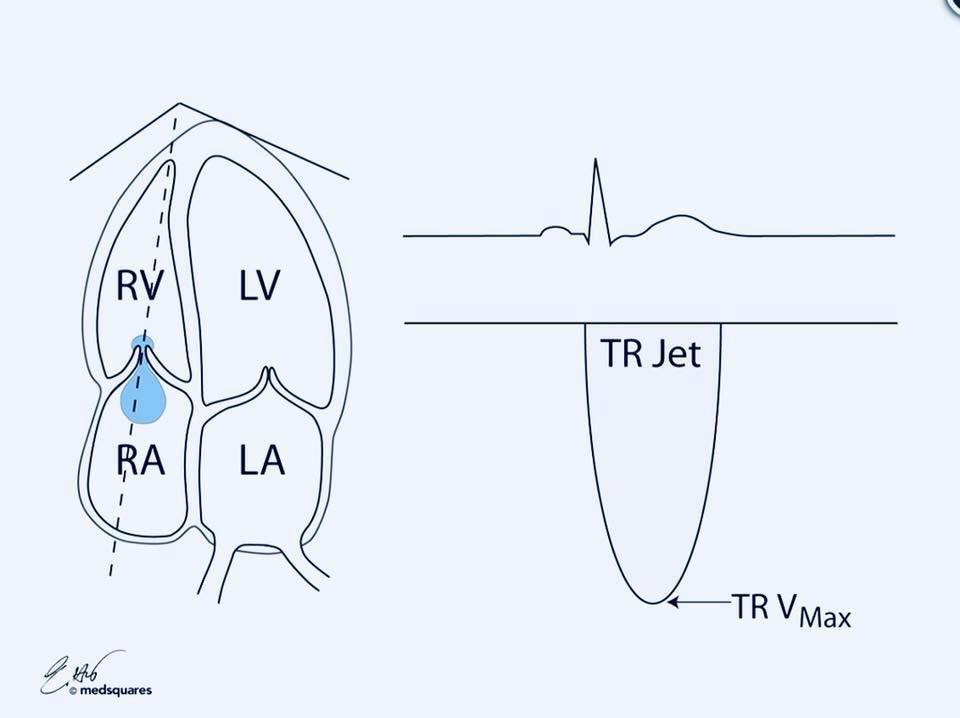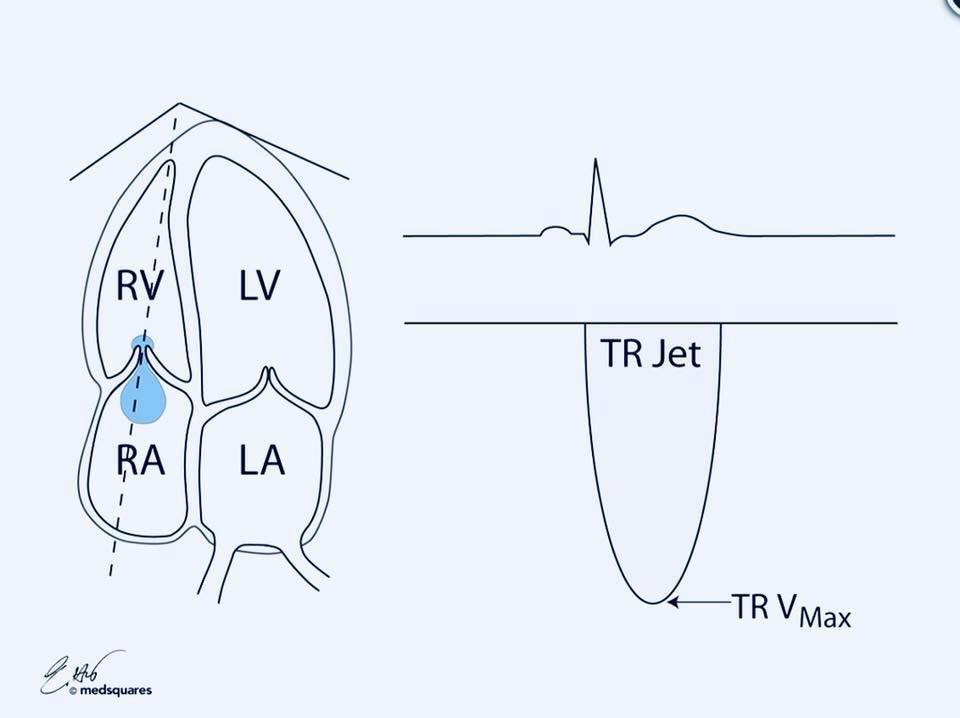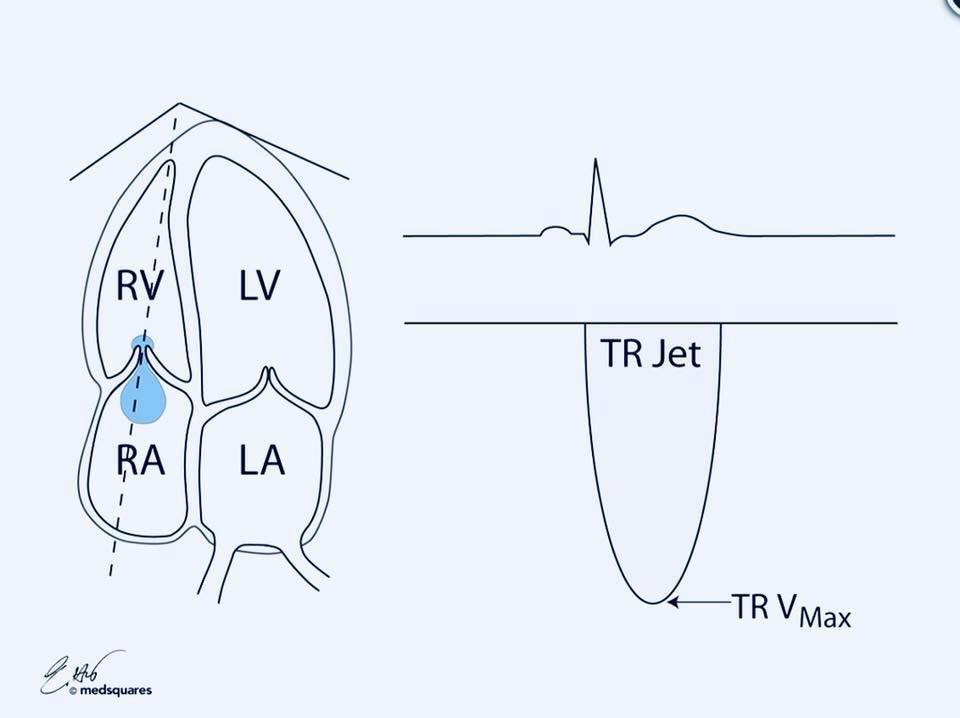 Right Ventricular Systolic Pressure (RVSP)
Can be estimated by measuring the TR jet maximum velocity by continuous wave (CW) spectral Doppler.
If there is no significant stenosis at the right ventricular outflow tract, or the pulmonic valve, RVSP is equivalent to systolic pulmonary artery pressure (SPAP).
RA pressure (RAP) can be estimated by
Size and respiratory collapsibility of inferior vena cava.
For simplicity and uniformity of reporting,
specific values of RAP, rather than ranges,
should be used in the determination of RVSP.
Secondary indices of elevated RA pressure include:
• Restrictive filling
• Tricuspid E/E' >6
• Diastolic flow predominance in hepatic vein (HV)
i.e. HV systolic filling fraction Vs/(Vs+Vd) <55%
– In young athletes,
IVC may Dilated in presence of normal pressure.
– In patients on ventilators
IVC is commonly dilated and may not collapse
so not used in such cases to estimate RAP .
Normal resting values are usually defined as :-
a peak TR gradient of 2.8 to 2.9 m/s or
a peak systolic pressure of 35 to 36 mmHg,
assuming an RA pressure of 3 to 5 mmHg.
SPAP may increase with age and increasing body surface area and this should be considered when estimations are at the upper limits of normal.
Some cardiologists who care for patients with congenital heart disease will consider SPAP greater than two thirds of the systemic blood pressure as indicative of severe pulmonary hypertension.
RVSP = 4(TR Vmax) 2 + RA pressure
Definitions
TR VMax TR Max Jet Velocity (m/s)
RA Pressure Choose between 3, 8, or 15 mmHg,
or other (mmHg)
RVSP Right ventricular systolic pressure (mmHg)