On second thought, that Bieber poster hanging in my wife's bathroom isn't so bad after all.
According to Rebel Circus, a 27-year-old Harstad woman with a used condom fetish has collected almost 2,000 used rubbers, and she is displaying them on her bedroom wall for all to see.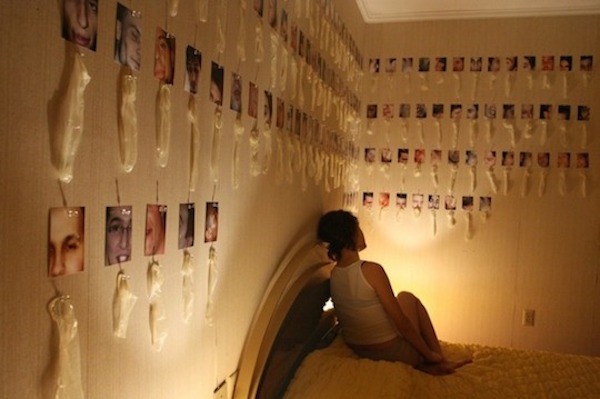 "Condom-Tonje" says her fetish started in 2010 when she asked her then-boyfriend to keep the condom he had used during their plow session because there was "something about the smell." He responded by calling her "nasty," and he broke up with her a short while later after she asked some drunk friends who had just had sex in her bed to leave their used love glove on the nightstand.
Tonje's journey with her boyfriend might have taken a shit that night, but her quest to collect as many used cock socks as possible was just beginning. She now has 1,921 used jimmy hats hanging from her wall, some of which she has paid as much as $77 to get her hands on. Other used raincoats on her wall are accompanied by a picture of the donor, something that Tonje says she will throw in another $15 to get.
"One day I'm going to clear 10,000," Tonje says. "That I look forward to."
But just when you thought the story couldn't possibly get any grosser, word is that Tonje's father is helping her out by asking all of his friends to donate their used salami slings to the cause. Plus, our guess is that her bedroom smells terrible.