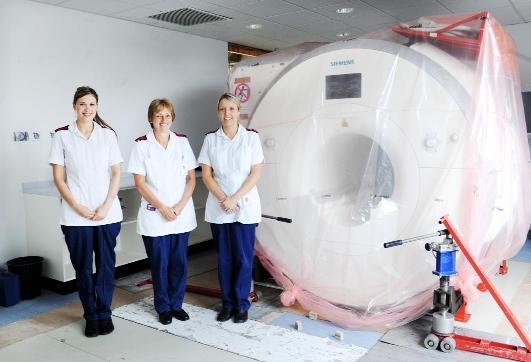 THE average length of time that an East Lancashire patient is forced to wait for an MRI scan has been slashed thanks to new equipment being installed.
A second scanner was installed at the Royal Blackburn Hospital in the summer as part of a £2.4 million investment, and patient waiting times have since almost halved, from about five weeks to around three weeks.
It also means East Lancashire Hospitals NHS Trust no longer has to send patients to private hospitals for a scan due to a lack of capacity at their own sites.
Demand for MRI scans, which are used to scan patients for fractures, muscular skeletal or spinal injuries, brain problems and cancer, has increased by about 40 per cent in the four years since 2010.
There is now also a scanner installed at Burnley General Hospital.
David O'Brien, the trust's radiology manager, said: "The installation of a third MRI Scanner has proven to be a very welcome development at the trust and a sound investment in improving patient care and experience.
"We no longer send any referrals to third-party providers and our patients have greater choice in terms of when and where they are able to attend.
"We have also been able to double the number of inpatient scans that we do per day, supporting earlier discharges and more rapid diagnosis and while demand for MRI continue to increase , our waiting times have continued to reduce.
"This greater capacity has enabled us to provide a continuous service on the Blackburn site in the case of any planned or unplanned maintenance and we are also able to accommodate requests to accelerate urgent cancer referrals much more easily."
The Blackburn scanners operate seven-days-a-week, while the Burnley machine runs from Monday to Friday until 8pm.
The trust was forced to refer about 40 patients per week to the private Beardwood Hospital in Blackburn before the new scanner arrived, which incurred significant costs to the organisation.