ARDMS
While legally in many states, ultrasound certification is not required, most employers prefer their prospective ultrasound technicians or diagnostic medical sonographers to hold such a credential. According to the American Registry for Diagnostic Medical Sonographers (ARDMS), "certification is a voluntary process and documents that an individual has met specific requirements and has the knowledge, skills and abilities to perform within a profession".
Some states, like Oregon, New Mexico, New Jersey and West Virginia either require or may soon require that sonographers be licensed, with other states expected to follow suit. Licensure on a state level usually requires candidates to hold a national certification or credential. ARDMS certification is held in high esteem among the medical, ultrasound and cardio/vascular community across the United States and the world.
The ARDMS offers the following credentials:
 RDMS (Registered Diagnostic Medical Sonographer)
 RDCS (Registered Diagnostic Cardiac Sonographer) 
 RVT (Registered Vascular Technologist)
 RMSK (Registered Musculoskeletal)
 RPVI (Registered Physician in Vascular Interpretation)
The table below shows which ARDMS exams must be written to earn a particular credential. In some cases only one major exam is required, while in other cases a general plus a specialty exam must be written.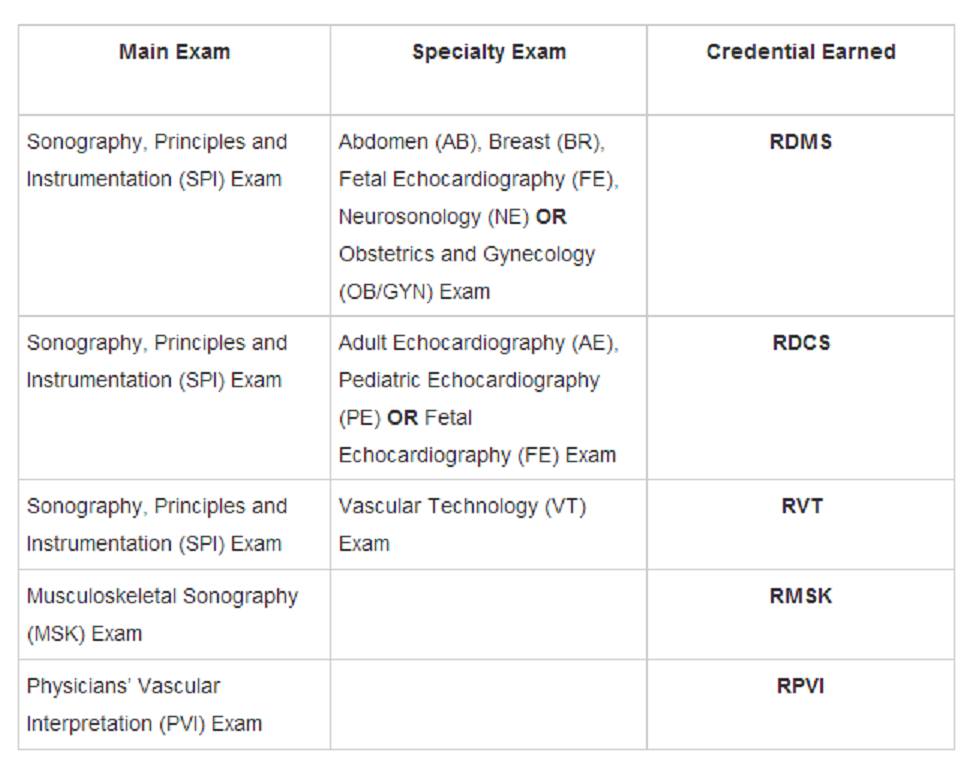 How to Apply for the Exam
Before applying for an ARDMS exam to earn your particular ultrasound certification, you must first ensure you meet the prerequisites. The ARDMS offers seven prerequisite options that can be found on their website at ARDMS.org.
For example, Prerequisite 2 is the completion of an ultrasound program (diagnostic medical sonography, diagnostic cardiac sonography or diagnostic vascular degree) from an accredited educational institute. The school may be accredited through the CAAHEP (Commission on Accreditation of Allied Health Programs) or CMA (Canadian Medical Association). As part of Prerequisite 2, no additional clinical hours are required because they are already included in the accredited ultrasound degree program.
Another option is Prerequisite 1, which is the completion of a two-year allied health program, such as an Associates Degree in Radiologic Technology or Occupational Therapy, plus 12 months of full time clinical ultrasound experience.
Once you are eligible to apply for the ARDMS exam, you can easily apply online; as of April 2012, the processing fee is $100.

https://www.youtube.com/watch?v=pDaAIeNHDeU