Ultrasonography (US) is the most recent cross-sectional imaging modality to acquire three-dimensional (3D) capabilities. The reconstruction of volumetric US data for multiplanar display took a significantly longer time to develop in comparison with computed tomography and magnetic resonance imaging. The current equipment for 3D-US is capable of producing high-resolution images in three different planes, including real-time surface-rendered images. The use of 3D-US in gynaecology was accelerated through the development of the endovaginal volume transducer, which allows the automated acquisition of volumetric US data. Although initially considered an adjunct to two-dimensional US, 3D-US is now the imaging modality of choice for the assessment of Müllerian duct anomalies and the location of intrauterine devices.
Although much of the initial interest in 3D ultrasonography, particularly in obstetrics, was focused on the display of surface-rendered images, the applications of 3D ultrasonography gradually expanded to domains such as multiplanar reconstructions, tomographic slicing, volume calculations, image manipulation, and other forms of image rendering.
Depending on the equipment and the selected display format, the initial images from 3D ultrasonography are usually displayed in three planes: the plane of volume acquisition and two orthogonal planes. Depending on the type of acquisition, the rendered image may be shown as well. The optimal display of the coronal plane of the uterus usually requires some manipulation of the data set. The coronal plane, or C-plane , is the best anatomical view of the uterus, as it provides information on the shape of the uterine fundal anatomy and the endometrial cavity, which is essential for the evaluation of the most common Müllerian duct anomalies and the position of an IUD in relation to the uterine cavity.
Tomographic axial sections from transvaginal three-dimensional (3D) ultrasonography of the uterus in a 26-year-old woman.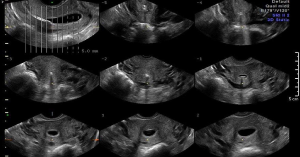 Coronal or C-plane of the normal uterus (rendered image).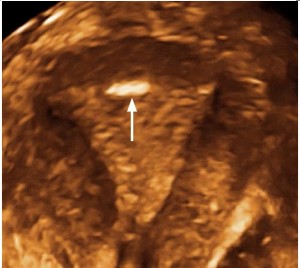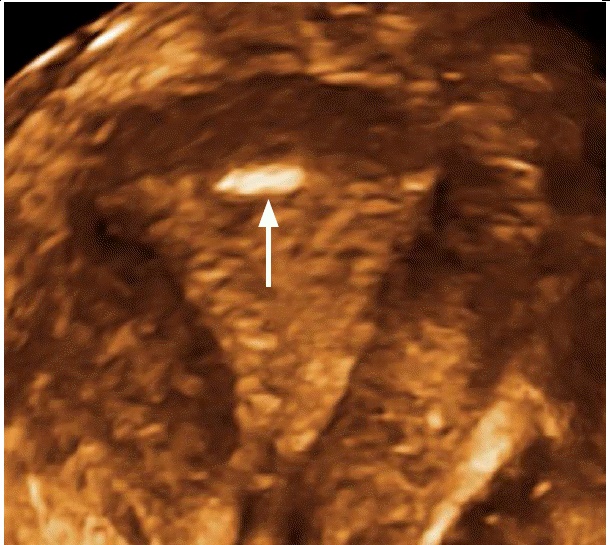 Müllerian Duct Anomalies
Müllerian anomalies, also known as congenital uterine anomalies, result from varying degrees of non-fusion or partial fusion of the Müllerian ducts, inadequate resorption of the septum in fused ducts, unilateral or bilateral failure of the development of the ducts, and hypoplasia. A classification of congenital uterine anomalies (Table 1) was published by the American Fertility Society in 1988, and remains the most widely accepted to date. However, certain anomalies do not fit into any of the classes, such as uterus didelphys with obstructing vaginal septum or bicornuate uterus with cervical or vaginal aplasia. These anomalies cannot be straightforwardly classified using this system.