Diagnostic Medical Sonographer:
Is it a boy or a girl? As a diagnostic medical sonographer, you could be the one answering this or a host of other life-changing medical questions with the help of ultrasound technology. Beyond babies, sonograms are used to help diagnose other medical conditions by creating images of body organs and tissues. These professionals include musculoskeletal sonographers, who specialize in creating images of muscles, ligaments, tendons and joints; neurosonographers, who focus on the nervous system, including the brain and spinal cord; abdominal sonographers, who capture images of the abdominal cavity as well as nearby organs like the kidney, liver and pancreas; and breast sonographers, who capture images of breast tissue that could confirm the presence of cysts and tumors. Skilled technicians play a vital role in ensuring a proper diagnosis. It's a job with both social and technical elements, since sonographers must position a patient just right so that a properly calibrated machine can produce the best possible image. The job also requires social savvy, since the sonographer is the first person nervous patients turn to for information about their condition.
Advances in imaging technology will lead medical facilities to use it more in place of costly, invasive procedures and less-expensive equipment, which means more procedures will be conducted outside hospitals. Although hospitals are the biggest employers of diagnostic medical sonographers, employment should grow rapidly in physicians' offices and medical and diagnostic laboratories. The Bureau of Labor Statistics predicts employment growth of about 26 percent between 2014 and 2024.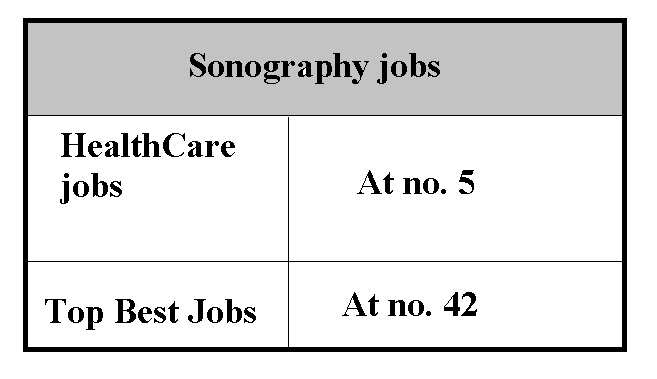 Salary:
According to the BLS, diagnostic medical sonographers earned a median salary of $67,530 in 2014. The best-paid 10 percent earned more than $93,850, while the lowest-paid earned less than $46,930. Areas of the industry that pay well include specialty hospitals, outpatient care centers and colleges, universities and professional schools. California tends to compensate well – specifically, the metropolitan areas of San Jose, Santa Cruz and San Francisco.
Salary Range
75th Percentile $79,410
Median $67,530
25th Percentile $55,850