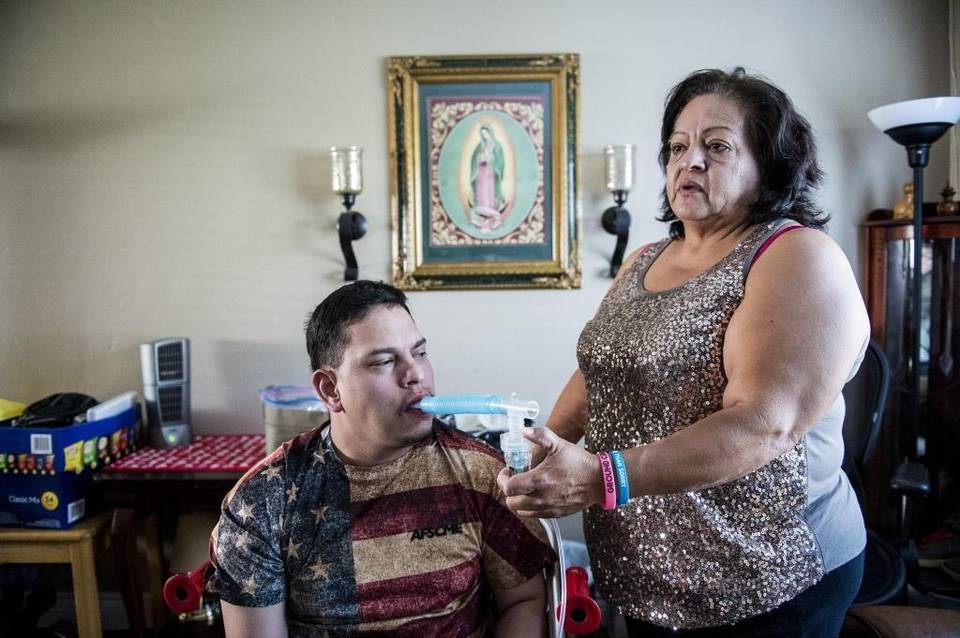 Susana Saldana cares for her 29-year-old son, who for many years used a wheelchair and now requires a walker. He requires 24/7 attention, and finding a second job isn't realistic.
Saldana, 56, is one of many home care providers in Merced County who say they need better pay and, perhaps most importantly, medical benefits for the work they do caring for others.
Saldana said she's been appealing for years to the Merced County Board of Supervisors, but hasn't made much progress.
"As much as I've been coming, I would say practically begging you guys to give us a raise … begging is not working," she told the board last week during a public meeting. "I have to care for my son, and my health can deteriorate. I need to go to the dentist. I need to go to the eye doctor. I want that to be part of the contract."
Board members typically don't respond to comments made during the public comment period of meetings.
Area home care workers, represented by United Domestic Workers, were shown support at Tuesday's Board of Supervisors meeting by fellow providers from Madera and Stanislaus counties.
Local home care providers began addressing supervisors in the public comment portion of meetings months ago, asking them to consider adding benefits to their compensation as well as a raise that will bring their pay above minimum wage. The county has been in negotiations with the union for more than a year now, said Mike Loza, the union's regional coordinator for District 4. The union's latest contract expired in December.
Last week, dozens of UDW supporters in green shirts filled the board chambers on the third floor of the County Administration Building on M Street. They described the duties they perform on the job every day and the clients they serve in their plea for a living wage.
Caregivers represented by the San Diego-based union provide services to low-income Merced County residents who may be disabled, blind or over the age of 65. Their work includes housecleaning, meal preparation, laundry and grocery shopping, among other responsibilities.
The caregivers work for In-Home Supportive Services, a state-run program that operates in all 58 counties. The service is an alternative to out-of-home care such as a nursing home or board-and-care facilities.
Union members from Stanislaus County spoke about the contract agreements recently made with the board of supervisors there.
The agreement includes a raise beyond minimum wage, dental and vision benefits, coverage for medical supplies and a training program that enables home care providers to attend further trainings and receive certifications for no cost through Modesto Junior College, Loza said. The new terms begin in January.
"The work home care providers do is not valued here," Loza said. "It's pretty evident to us that in Stanislaus County, the Board of Supervisors was more understanding of our position. In Merced County, it's a challenge."
Union members earn $10 per hour. Before minimum wage increased to $10 in California, UDW caregivers made $9.50 per hour, Margitte Kristjansson, a communications manager with the union, previously told the Merced Sun-Star.
County officials previously said UDW members would be subject to a minimum wage increase of $5 by 2020.