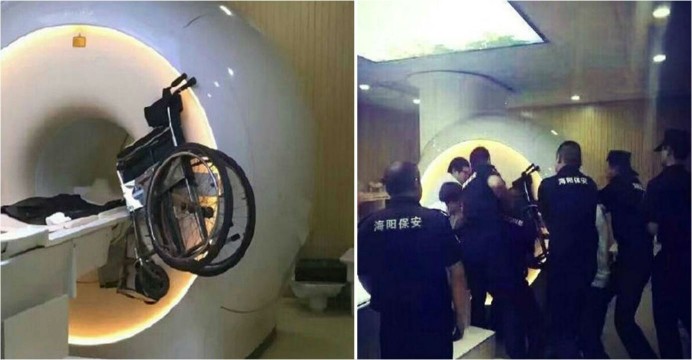 A premier hospital in Shanghai confirmed that a wheelchair was sucked up by a magnetic resonance imaging (MRI) scanner, leading to a suspension of the machine's operation.
But the Shanghai Pulmonary Hospital dismissed rumors on social media that the person responsible for the incident was asked to pay for damages, news website eastday.com reports.
An MRI scanner uses strong magnetic fields, radio waves, and field gradients to form images of the body, and as such, metal and electronic items are not allowed inside the examination room.
According to a Weibo post, which has photos of the incident attached, a family member of the patient being examined ignored the advice of medical staff and pushed a wheelchair into the MRI examination room on Monday, resulting in the metal chair being sucked up by the machine.
The netizen claimed the person responsible for the accident was liable to pay for damages estimated to be as much as 3 million yuan (US$448,397).
The post went viral, with many netizens calling the offender ignorant, stupid and selfish.
Some compared the person's attitude to that some Chinese tourists who behave improperly overseas.
In a statement, the hospital said the accident occurred after the patient's examination was finished.
A family member rushed to the room with a wheelchair to fetch the patient, but the chair was immediately sucked up by the MRI scanner and got stuck on the machine.
The hospital said no compensation was necessary as an inspection showed that the core parts of the machine were not damaged at all.
The MRI scanner was scheduled to resume operations on Thursday, it added.
The Shanghai Pulmonary Hospital is affiliated with the Tongji University School of Medicine.
According to its website, it is an A-1 hospital with a high reputation of treating respiratory diseases.
It has 825 beds with more than 900 staff, and is equipped with the most advanced equipment for testing and treatment.