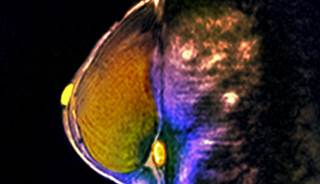 An abbreviated magnetic resonance imaging (MRI) protocol can exclude malignancy in women with suspicious X-ray mammography screening, according to a study published in Radiology.
Sebastian Bickelhaupt, M.D., from the German Cancer Research Center in Heidelberg, and colleagues conducted a prospective study involving 50 women with suspicious screening X-ray mammograms.
The authors sought to examine the ability of a diagnostic abbreviated MRI protocol consisting of maximum intensity projections (MIPs) from diffusion-weighted imaging with background suppression (DWIBS) and unenhanced morphologic sequences to help predict the likelihood of malignancy.
Participants underwent two abbreviated protocols based on MIPs and the findings were compared with those of the full diagnostic protocol and histopathologic findings. Twenty-four participants had a breast carcinoma.
The researchers found that the sensitivity was 0.92, specificity 0.94, negative predictive value (NPV) 0.92, and positive predictive value (PPV) 0.93 for DWIBS.
The mean reading time was 29.7 seconds; in the absence of suspicious findings on the DWIBS MIPs, the mean reading time was less than three seconds.
With the second abbreviated protocol (subtraction images from the first post-contrast and the unenhanced series), the sensitivity, specificity, NPV, and PPV were 0.85, 0.90, 0.87, and 0.89, respectively; the mean reading time was 29.6 seconds.
"Unenhanced diagnostic MR imaging (DWIBS mammography), with an NPV of 0.92 and an acquisition time of less than seven minutes, could help exclude malignancy in women with suspicious X-ray screening mammograms," the authors write.
Reference
Bickelhaupt S, Laun FB, Tesdorff J, et al. Fast and Noninvasive Characterization of Suspicious Lesions Detected at Breast Cancer X-Ray Screening: Capability of Diffusion-weighted MR Imaging with MIPs. Radiology. [published online ahead of print 2015].