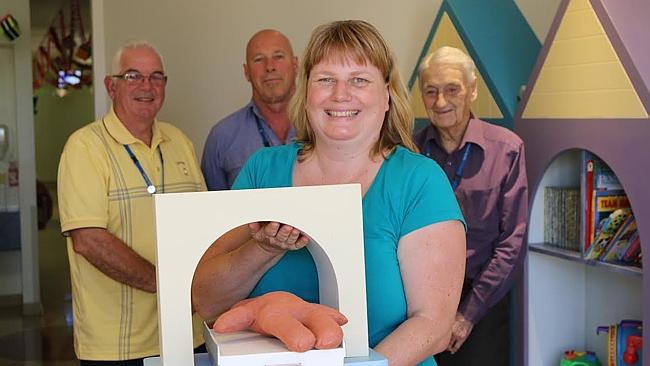 Children needing an MRI can feel prepared, thanks to a handy new toy.
Members from the Frankston Men's Shed have created a wooden MRI machine model to help children understand what's involved with the scan.
The device will be used at Peninsula Health's paediatric unit and will use a calico doll as the pretend patient.
Educational play therapist Natasha Hund, who approached the men's group about the idea, said part of her job was to help prepare children for medical treatment and procedures, including MRIs.
"I had already been doing this with the children using photos and CD sounds the MRI machine makes,'' she said. "But having a solid toy will make it easier for children to understand the experience better rather than using an explanation alone.
"It will also give them the opportunity to play with and understand through their own experience while having control."
Ms Hund said she had observed the use of MRI models through her contact with play specialists at the Royal Children's Hospital and Monash Children's Hospital.
"We hope this will lessen an anxiety they may have,'' she said.
Frankston Men's Shed co-ordinator John Baarsma said the group enjoyed projects to benefit children.
"Throughout the year, our volunteers take on various projects for the hospital and rehabilitation centres,'' Mr Baarsma said.
"The MRI machine was a good challenge for us and it's great to be able to do something that benefits sick kids and makes things easier on them.''