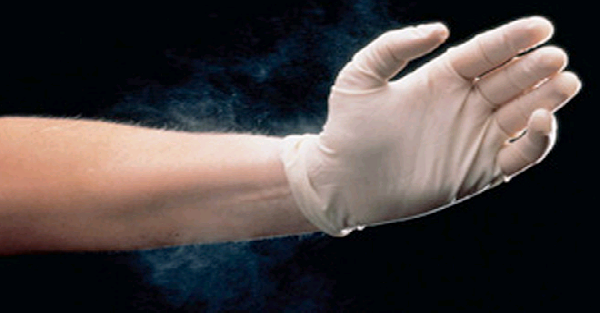 The US Food and Drug Administration (FDA) has finalized a rule banning the use of powdered gloves in medicine because they pose dangers to human health.
The ban, first proposed in March 2016, will further propel efforts already underway to phase out the use of prepowdered surgeons' gloves, powdered exam gloves, and absorbable powder for lubricating surgeons' gloves. Professional societies have advocated for a ban, and many large health systems have already either restricted or completely ended the use of such products, as have a majority of individual clinicians.
"While medical gloves play a significant role in protecting patients, healthcare providers, and other individuals in close proximity, powdered gloves are very dangerous for a variety of reasons," the FDA said in a statement.
Powder used within all types of gloves has been associated with many potentially serious adverse events, including severe airway inflammation, hypersensitivity reactions, allergic reactions (including asthma), lung inflammation and damage, granulomas, and peritoneal adhesions. Respiratory allergic reactions can also result from proteins in aerosolized glove powder, the FDA notes.
According to the agency, nonpowdered alternatives to both surgeons' and patient examination gloves are available that provide similar protection, dexterity, and performance but without any of the risks associated with powdered gloves. "Thus, a transition to alternatives in the marketplace should not result in any detriment to public health."
Most device removals from the US market are initiated by manufacturers, not the FDA. In fact, this is only the second time the FDA has ever done so. The first was the removal of prosthetic hair fibers in 1983. The FDA has now proposed one other ban, on the use of electrical stimulation devices to treat self-injurious or aggressive behavior.