This story filled with sadness speaks about one abused dog left tied with rope in a bag on the side of the road.
It's heartbreaking to see a dog that had been living an abused life, but the best part about these stories is when they get saved at the end, of course not all of them are lucky enough… Fortunately, the main character of this heartbreaking story gets a happy ending!It all happens when this abandoned dog was found in extremely bad condition. He was actually found in a shopping bag, tied up.
We've all heard stories about abandoned dogs on the side of the road in the middle of nowhere, but this is just too much. Even though this dog was left on the side of the road, he was actually tied up and left in a bag.When it comes to getting rid of dogs this is the cruelest possible way! He had bindings around his legs and even around his mouth so that he won't get away or call for help. It is truly heartbreaking.
Thankfully, one old man was walking around that area, and he saw the bag on the side of the road. When he opened the bag he was shocked. He saw a dog in terrible condition. His hair was literally falling out of his body. He immediately brought the dog to the local shelter.
What happened next?
The medical attention he got saved him from the bad situation he was in. They named him Trax, and slowly he was his own normal self once again. Due to the fact that his fur was slowly growing, he was wearing adorable sweaters to keep him warm.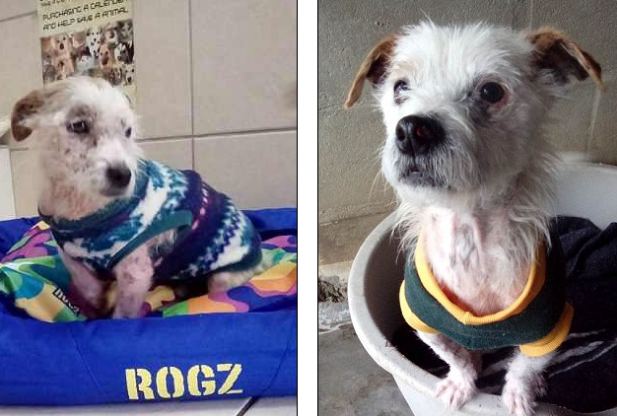 He might be cured physically, but mentally it will probably take a bit more time. He may never forget the terror he has been through. We honestly hope that his new forever family will give him all the love and support he needs to get better. Because he deserves it!