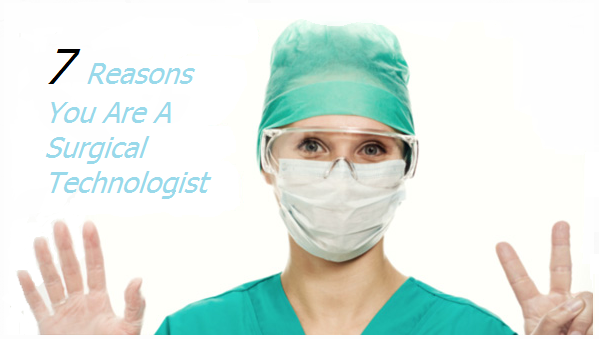 Here are the 7 reasons you know you are a Surgical Tech:
1)You seek for excitement and at the same time, you want to be fulfilled by helping others
                          A surgical technologist is ideal for those who can manage to work in a fast-paced environment.
2)You have the ability to stay highly organized even in a high-pressure environment
                         There are so many things happening inside the operating room and most of the time, it's always a chaotic scene. But luckily, surgical techs can handle situations like this without losing their focus.
3)You want to land a high-demand job
                         According to the U.S. Bureau of Labor Statistics, the employment in the said field is estimated to increase by 30 percent in the next decade.

4)You hate a 9-to-5 desk job
                      Many surgical technologists admitted that they love their jobs simply because they want to experience everything firsthand. They want to be where the action is and they like the satisfying feeling it gives them specifically when they accomplished something truly life-changing.
5)You enjoy doing and learning new things
If you're a surgical tech, you should expect to do something new each day. Even though you regularly assist with similar types of procedures, you must put in mind that bodies are different and every case is unique. At times, you might be sterilizing equipment or helping a patient to ready for his surgery, and many more.
6)You want to undergo faster training programs
                   Since the demand for surgical technologists is constantly increasing, schools began offering fast-track programs in order to make training quicker than usual. Surgical technology programs that award a certificate or diploma may only take up to 15 months to complete which means you may be able to save time and get a job early.

7)You are seeking opportunities for advancement
What's even better about being a surgical tech is that you have plenty of opportunities for advancement throughout your career.